Welcome the Waffen-SS 1st Totenkopf Leib-Husaren Division



This is a group of players dedicated to WWIIOnline the game.
| | | |
| --- | --- | --- |
| | "DEATHS HEAD" | Unit Info |
A Little About Our Squad:

We are not a Squad that demands anything other than playing together, to further organize and enhance the game.

You are not committed to any unit type whatsoever, play what is needed.

Play what and when you want to, attack the cities you want to, but when we are together our forces will surely prevail.

Our NEW Combat Channel is 2

Our abbreviation is ToT

---

If you like our squad or are on our squad please click the banner below:

As one of the most ideological of the Waffen-SS units, Totenkopf showed no quarter to its enemies.
The elephant will kill thousands, perhaps even millions, of ants,
but in the end their number's will overcome him and he will be eaten to the bone!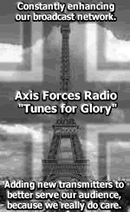 Home/ Command Structure / Screen Shots / History / Links / Chat / Message Boards / Glossary
*This website in no way condones the atrocities committed by the Nazi party and is in no way associated with any hate group that is. This website offers nothing for sale. This website was created as a part to WWIIonline the game.